Once upon a time … The Thread of Emotion Cymbeline
For more than 40 years, the story of love and passion crafted by our designers, pattern makers, toile makers, seamstresses, laces and fabrics… Cymbeline workshops are recognized for their exceptional expertise and a constantly renewed creativity. A French base does not prevent an international positioning, and a presence on worldwide catwalks.
Cymbeline is unquestionably one of the leaders of the bridal industry in Europe with excellent images of unrivalled expertise.
Cymbeline is present in some of the largest bridal stores, exhibiting their new 2018 collection at all the international bridal shows including Paris, Barcelona, London, Milan, Essen and Düsseldorf, the highlight of the Barcelona Bridal Week is Cymbeline's catwalk Fashion show.
Cymbeline… Symphony of experience and French elegance, delicate lace, rustling taffeta and trimmings, captivating and intoxicating silk that captures our emotions. The silk threads of bridal laces and embroidery threads for the evening gowns all came together for this new collection.

Silk thread
The secrets of the silk cocoons were jealously hidden so the finest of fabrics could be presented to the emperor of China. An Indian princess before her wedding, refused to share the secret, hid the precious cocoons in her hair, defying& forbidden by royalty so gave her secret of Seres. The Legend of Love could begin…

Lace thread
Without frame or chain, but with a soul, we saw lace from Venice, the city of Love. The silk threads were soon replaced by gold and silver to decorate the elegant finery.

The thread embroidery
The watercolor fabrics, needles replace brushes, patterns of our imagination, are juxtaposed flat or in relief, to provide supreme refinement. Sequins and beads give light to delicate fabrics such as organza, lace and taffeta.

The Couture Collection
New hands contributed to the collection in 2018: Olivier Portais & Lucas Anderi, who worked on their own capsule collections and their respective talents and complementary worlds loomed threads and tamed in secret workshops Fontainebleau.
These designers are architects of emotion, produce inspiring shapes and silhouettes of tomorrow, designed, modeled and produced to be seen on the catwalks of Paris Haute Couture.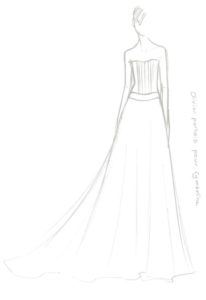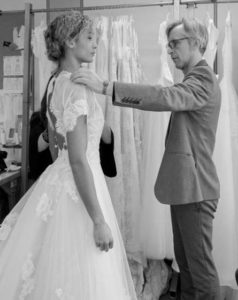 In fifteen years of professional experience with brides, Olivier Portais acquired a certainty: the dress that will stand out in the mind of all is a unique model, customized. Each of the dresses borned from the imagination of this inspired artist is a new creation, reinvented and timeless classicism. Silk, lots of silk, organza, raw silk, chiffon, satin…Models, which declined on all white tones blend ivory, cream, or play with the contrast between matte and gloss. Olivier Portais remembers the tradition, but adapt it on him way. In a hundred ways. He knows perfectly lengthen a silhouette, ennoble a port, highlight each personality trait: it is a hymn to femininity. Creations that bear the mark of the master: the bands he works in "every angle". They adorn a troll, make up a reef knot, drape stand or enhance neckline.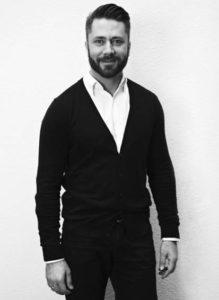 Born in Lebanon and based in Brazil for 16 years, Lucas Anderi rises as one of the most influential names in the country when it comes to bridal fashion. At 37, the designer on-the-rise leads a team of 14 people within a luxurious three-story atelier in Jardins, the trendy quarter in Sao Paulo.
Cosmopolitan, urban and cool are just three among the several adjectives which describe Lucas Anderi's bride. Behind modern classics are tailored taffetas, organza and silk tulles come to life embraced by laces and ribbons brought exclusively from Italy and France. Transparency and volume are also part of the label's DNA, featured in the hippest weddings from fiction to real life.
His inspiration comes from his own brides and from traveling around the world. This experience has allowed him to offer a variety of styles along with dressing clients and actresses famous worldwide from their roles in TV Globo soap operas which is the main television channel in Brazil.