ATELIER
---
The intelligence of the hand, the imagination of the mind. Hand down knowledge for several generations.
Many hours of patience and love. The tread of emotion, zest of Paris.
Just for you, in order to realize you unique dress in our workshop.
A dress that will count more than all your other dresses.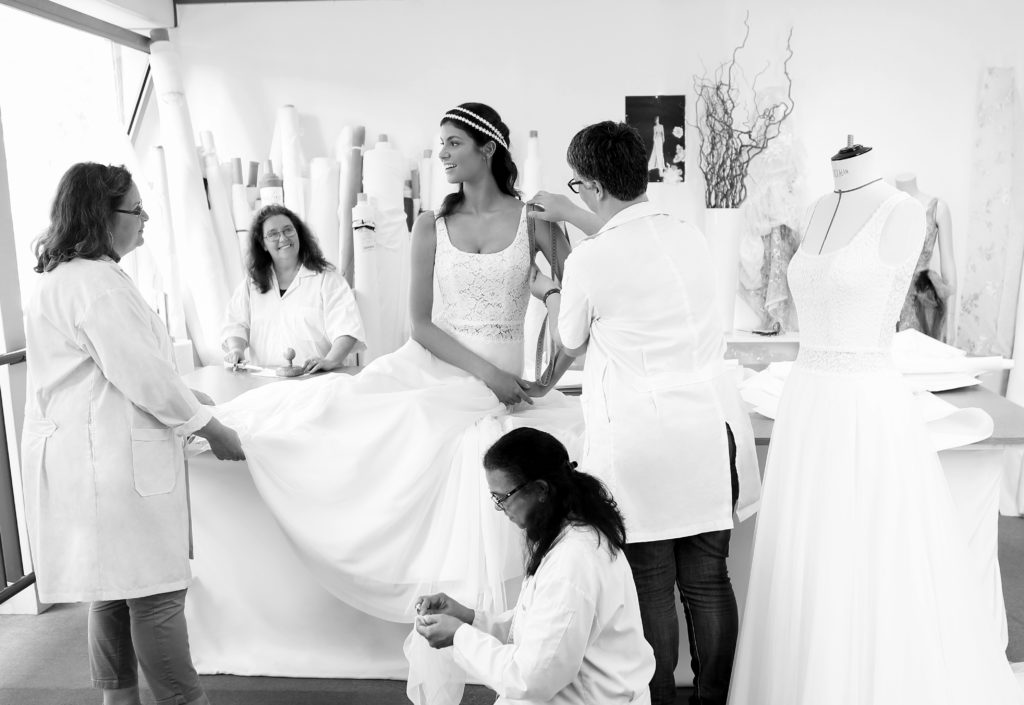 FROM LEFT TO RIGHT
OLIVIA (PATTERN MAKER),
EUGÉNIE (CUTTER), JOSIE (FINISHER),
LUCIA ("MÉCANICIENNE MODÈLE")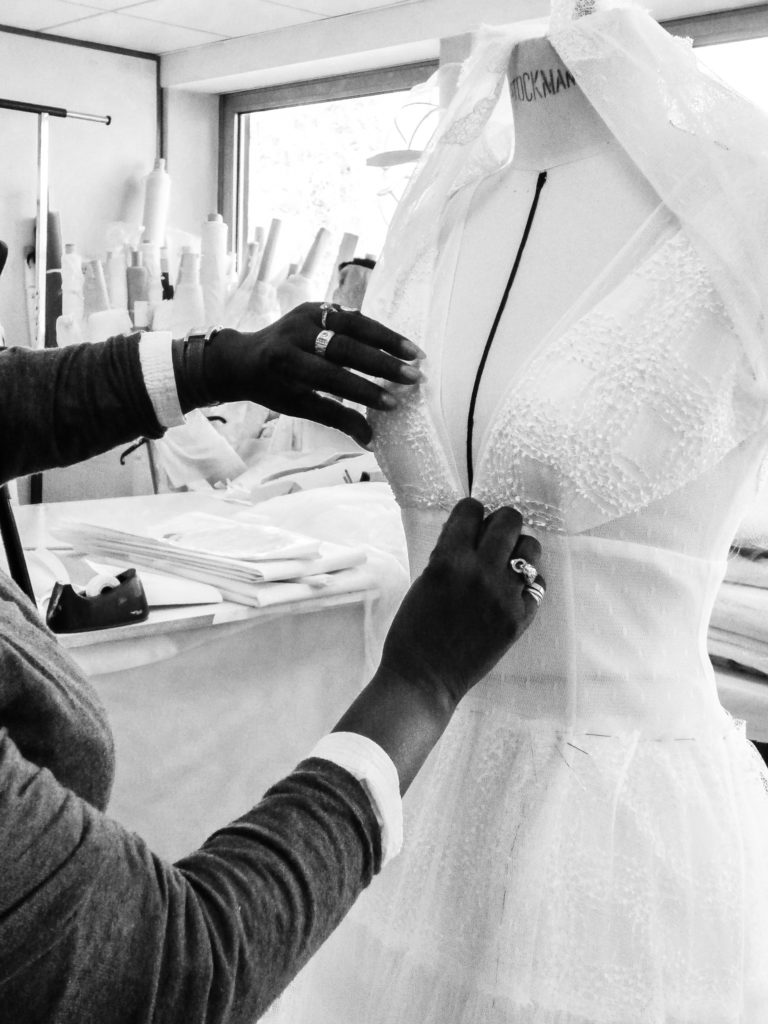 LUCRÈCE (GENERAL MANAGER)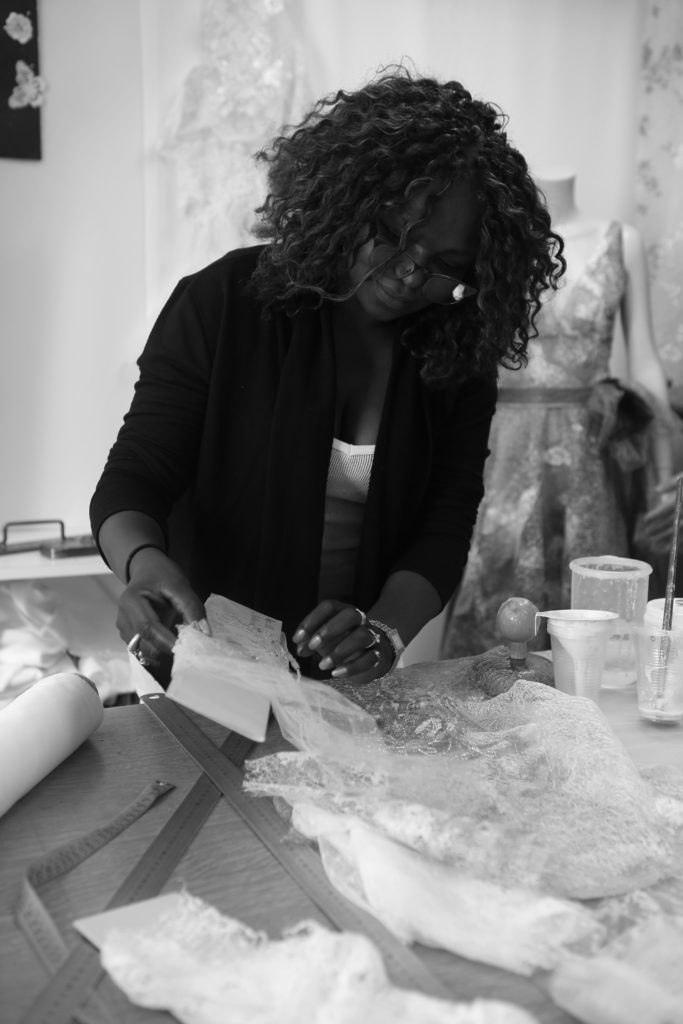 LUCRÈCE (GENERAL MANAGER)

Es war einmal … Die Fäden der Emotion von Cymbeline
Mehr als 45 Jahre Geschichte, eine Geschichte von Liebe und Leidenschaft für die Künstlerberufe, inszeniert von unseren Modedesignern, Modellmachern, Modellisten, Schnittmacherinnen, Spitzenklöpplerinnen… Die Ateliers von Cymbeline sind bekannt für ihr außergewöhnliches Know-how und eine unerschöpfliche Kreativität. In Frankreich verwurzelt, was eine internationale Positionierung und eine Präsenz auf den Podesten der Mode in der ganzen Welt nicht verhindert.
Cymbeline ist zweifellos einer der führenden Brautkleider Hersteller in Europa und die Referenz für das Image der französischen Erstklassigkeit und einer unvergleichlichen Expertise.
Als großes Haus der französischen Brautmode stellt Cymbeline ihre neuen Kollektionen auf den berühmten Messen von Paris, Barcelona, London, Mailand, Essen und Düsseldorf vor und präsentiert die Modelle auch auf der international bekannten Modenschau der Barcelona Bridal Week.
Cymbeline… die Symphony von Know-how und französischer Eleganz, das Vibrato der Spitzen, ein Rascheln von Taft und Posamenten, hinreißende Seide, die unsere Gefühle ergreift. Seidenfäden, Spitzenfäden, Stickfäden und der Faden des Abends wurden für diese neue gelungene Kollektion ausgewählt.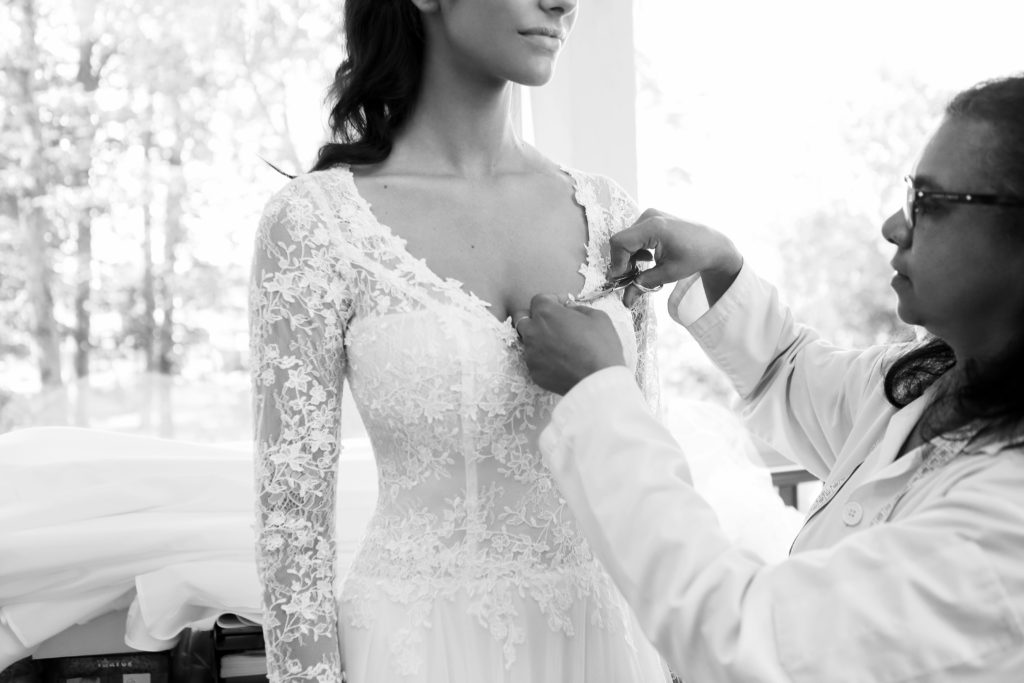 JOSIE (FINISHER), with her fairy fingers and a lot of patience, the lacemaker carefully reproduces a design drawn by a stylist or a designer. She uses for this purpose needles, hooks and spindles and threads of white linen, pearl cotton, ecru silk or gold or silver threads or color. In everyday life, dresses come to life thanks to dressmaker. They make and assemble all the pieces, to become the symbol of our house, the wedding dress.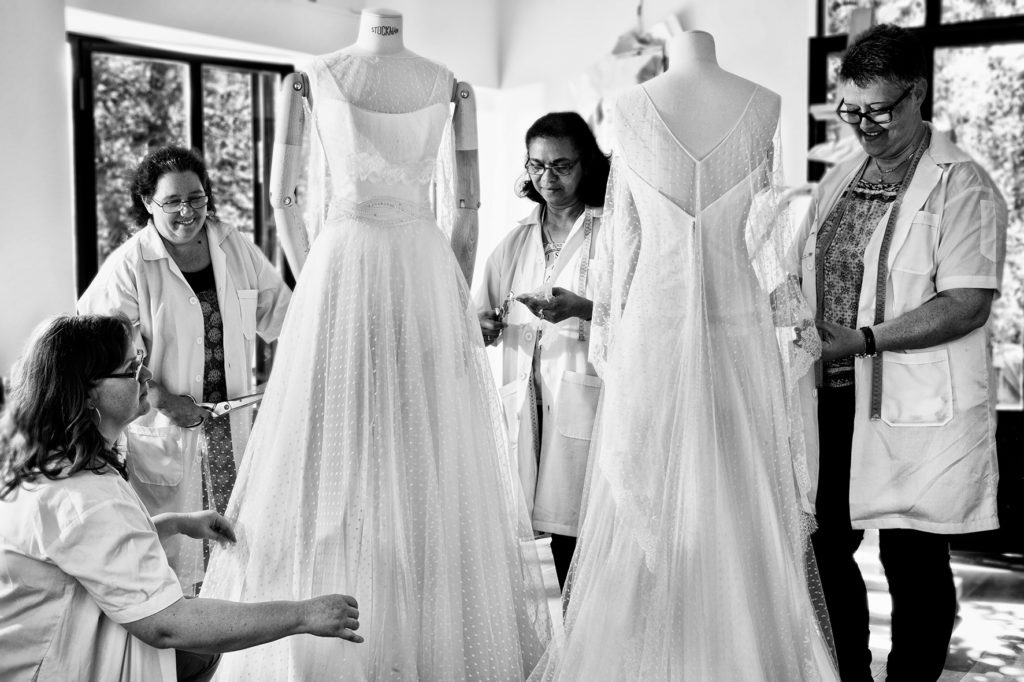 FROM LEFT TO RIGHT
OLIVIA (PATTERN MAKER), the pattern maker gets each element of the model maker, she gaters these elements by complementary pieces representing the linings, the inner reinforcements. It controls the assembly lines and the location of the positionning points of the pliers, the buttons… The patterns are made of paper and cardboard on the computer supports. This will make templates to facilitate manufacturing.
EUGÉNIE (CUTTER), the cutter manually performs the cutting of the pieces of fabric in length, taking care to minimize material loose and controlling apparent defects. JOSIE (FINISHER), LUCIA ("MÉCANICIENNE MODÈLE")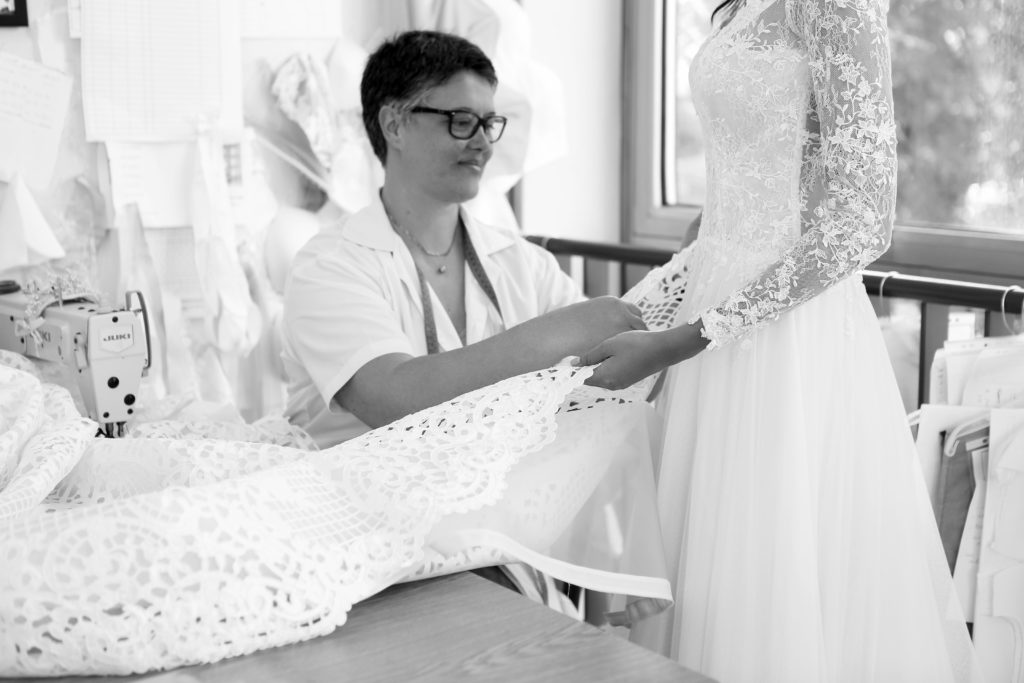 LUCIA ("MÉCANICIENNE MODÈLE"), the model maker gives life to the stylist project. Essential link in the chain of creation of a collection, the model maker materializes the idea of a creator by performing and supervising the different steps of work necessary between the sketch and the prototype of a piece. Then the toilist drapes the canvas on a mannequin in order to obtain a pattern form a sketch, in connection with the artistic director, interpreting the sensivity of the house.