Edito The Workshop,

Savoir-Faire
Behind your Cymbeline gown is a whole team of specialists who have the knowledge, a lot of love, the passion and talents, to make your dress unique…
Once upon a time, in the gardens of the Château de Fontainebleau, you would find the designers inspired by History, working on their new creations. Sketching new designs, working with incredible fabrics: threads of lace, silk, organza and taffeta. The workshop is a hive of activity: toile makers, pattern cutters, modelist, cutters, all working together on your future wedding dress.
Once upon a time the talented artisans, corsetier, plumassier, lacemaker, embroiderer.
For more than 40 years, exceptional women of our workrooms and the designers, put their passions to work, to make the most beautiful dresses that will feature on the catwalks worldwide and for the most intimate stories, your love story…
Thank you for choosing a unique dress, thank you for choosing our workshop…
Le château de Crèvecoeur
All abandoned, le Château de Crèvecoeur is inhabited only by the memories and emotions of past happiness.
Touched by this majesty and this strange beauty, one spring day, Cymbeline decide to give it life again.
The dream of beauty, the rustling of silks and laces, and the laughter of happiness, have for a moment invade this magical place.
Setting for a day, unique dresses for a day…
Catwalk
Barcelona Bridal Week
Fashion shows: Paris, Barcelona, Milan… On the catwalks of the biggest fashion capitals, Cymbeline represents the French knowledge. For more than 40 years, Cymbeline combines modernity, daring and traditions, with this unique and imperceptible touch of Parisian fashion. Behind all these catwalks, many talents, lots of Love and Passion. Hairdressers-make-up artists, artistic director, scenographer, seamstresses… Invisible ballet repeating its choreography, the magic of nuptial fashion.
Hautre couture
A unique dress, for unique signature: the date of your wedding…
Hautre couture, excellent in French knowledge, hand crafted, patience, shared secrets from generation to generation, experience in experience. Far from the spotlight, but ready for the attentions and expectations of our bride.
Hautre couture, "Ball of the Little Hands", shape the canvas to measure the bride, realize her most secret dreams, in the intimacy of a privileged relationship.
With the example of "Cancan"… More than 400 hours of work, 28,000 feathers placed one by one on the train skirt, almost as many Swarovski crystals, laid like beads of dew. 3000 feathers on its matching bolero, and a corset maked in the old fashion to the comfort of today.
Hautre couture, listening to the stylist, the workrooms of Fontainebleau and the Parisian artisans, to design this dress so special, with the emotional eyes of our bride.
Hautre couture, only by appointment, exclusively in Paris, in a place reserved for the creation, or the discovery of our workrooms of Fontainebleau.
Hautre couture, a unique experience, yours…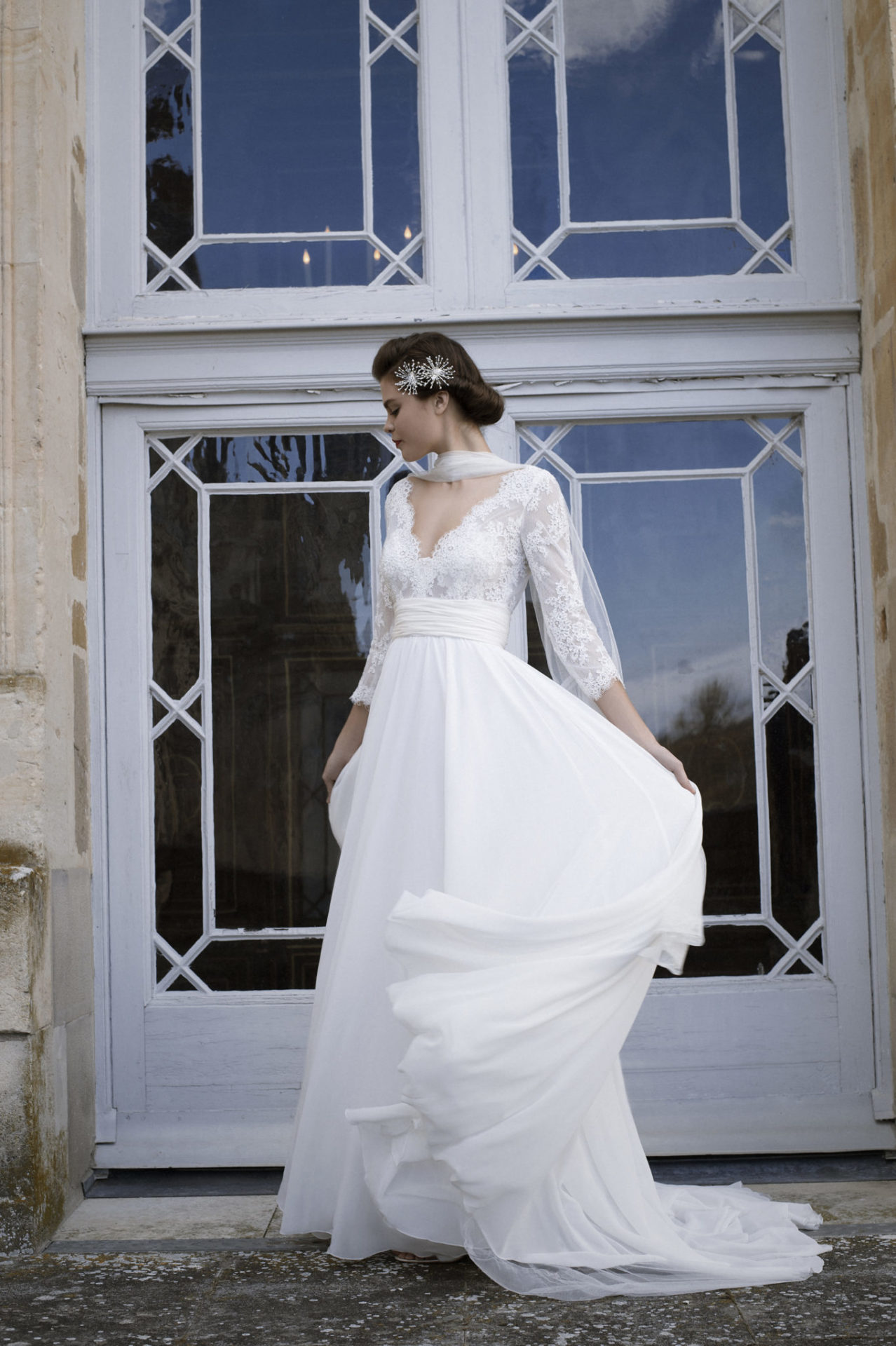 Forever
There are models, materials, and forms that go through time, with that timeless elegance and insolent modernity. Out of time, out of fashions, it is these dresses that are synonymous with a claw. The tradition of Savoir-faire, the emotion of a knowledge to please.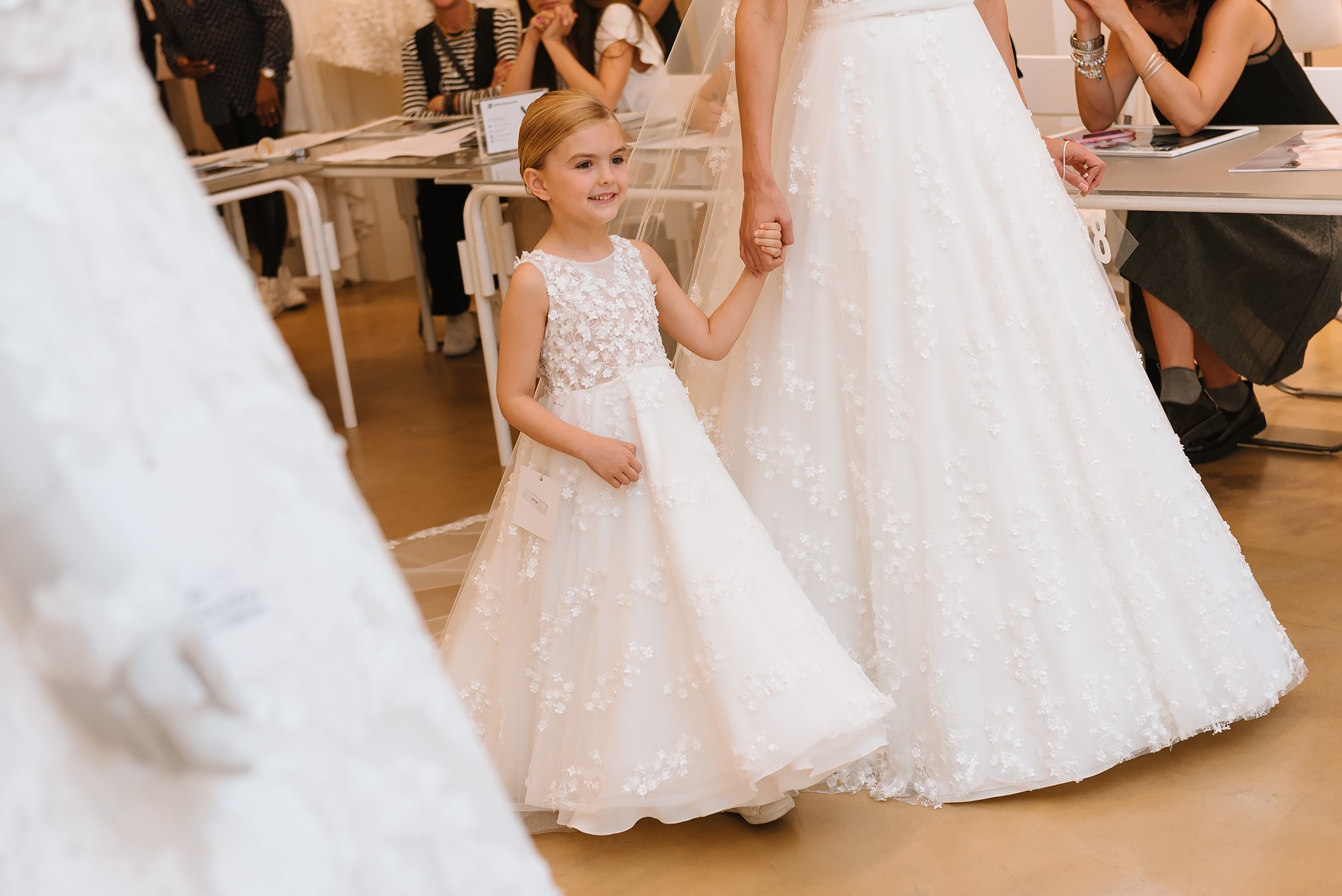 Comme les grandes
Dressed with lace and tulle, they are the reflection of these ladies.
Miniatures of the dresses of our Cymbeline brides, they participate with a hint of shyness, while being proud, at the shows of the whole world Milan – Paris – Barcelone