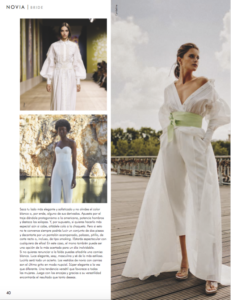 1 ❙ ENSEMBLE MIRYS
Large shirt in organza shape bayadere, with leg of mutton sleeve, MIRYS shirt. Wear on carrot pants in whipcord of silk and wool, MIRYS trousers. Mark with a obi in ottoman nil green, OBI MIRYS.
Discover all the Cymbeline news in NP Magazine, all the bridal fashion trends in Spain. Our wedding dresses in Spanish wedding trends, through articles and inspirational shoots.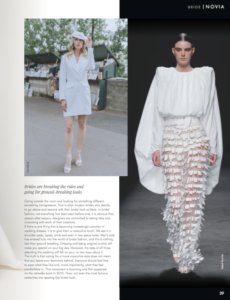 2 ❙ RIHANA
Rihana, is a magnificent short crepe wedding dress. Both chic and casual, this double-breasted model with its flap pockets will be a hit with your guests. This tuxedo-style dress is the final touch that will make the difference for your civil ceremony.
Want to see more articles about Cymbeline in NP Magazine?
Don't hesitate to discover even more wedding inspiration by consulting the numerous articles on Cymbeline in the Spanish magazine NP Magazine. Wedding looks, beauty tips for your big day, bridal accessories, reception venues, everything you need to know to organize the most beautiful wedding in Spain.