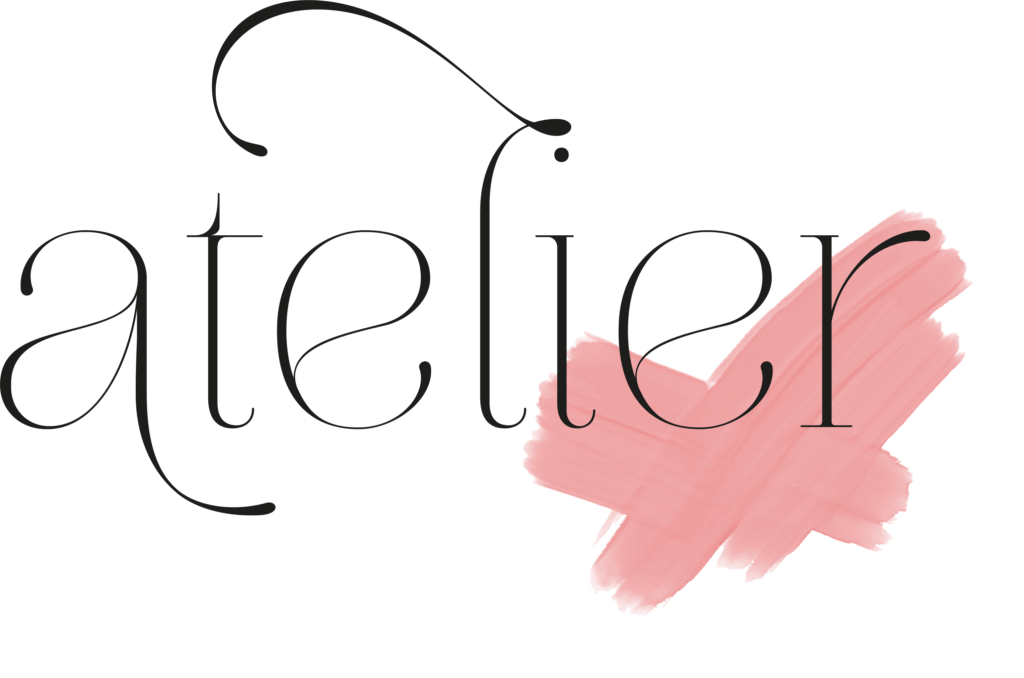 The intelligence of the hand, the imagination of the mind. Hand down knowledge for several generations.
Many hours of patience and love. The tread of emotion, zest of Paris.
Just for you, in order to realize you unique dress in our workshop.
A dress that will count more than all your other dresses.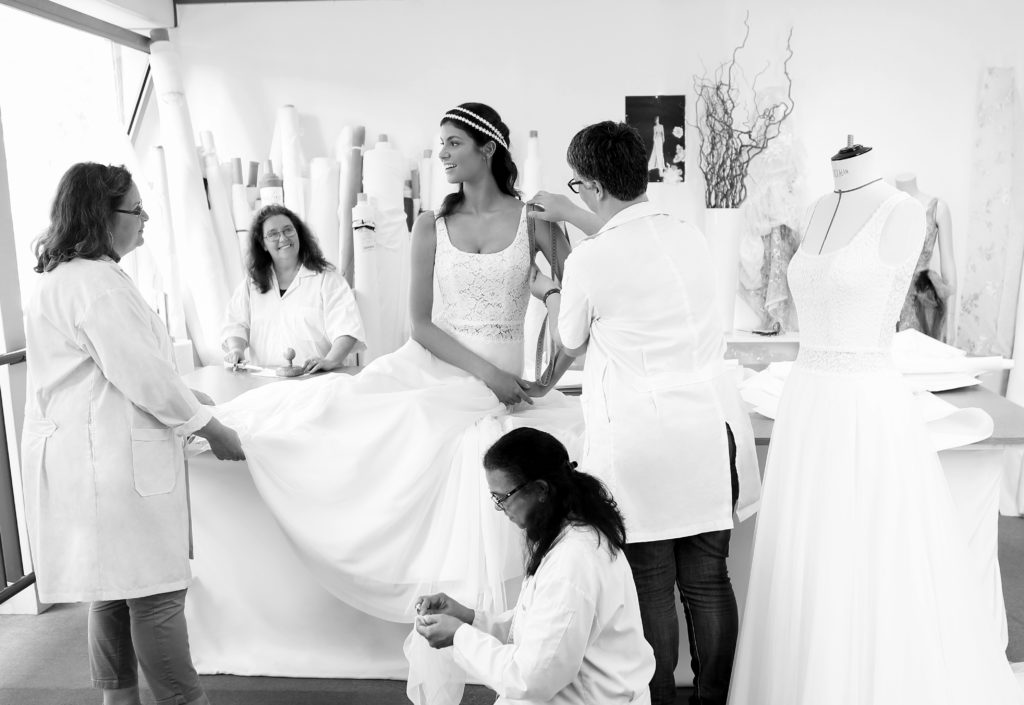 FROM LEFT TO RIGHT
OLIVIA (PATTERN MAKER),
EUGÉNIE (CUTTER), JOSIE (FINISHER),
LUCIA («MÉCANICIENNE MODÈLE»)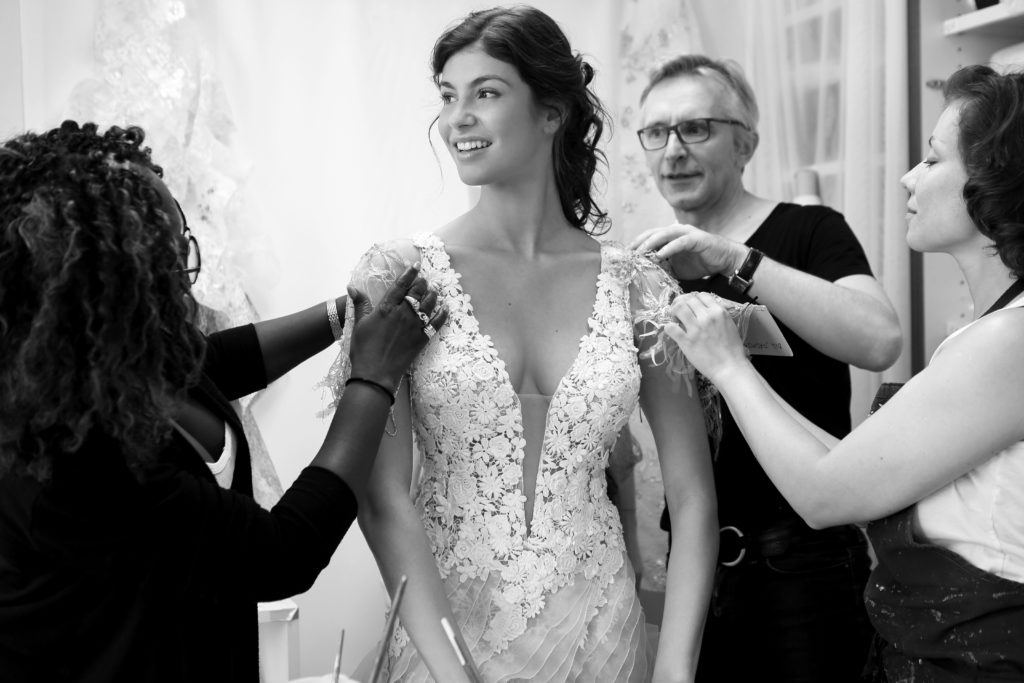 FROM LEFT TO RIGHT
LUCRÈCE (GENERAL MANAGER),
OLIVIER PORTAIS (DESIGNER),
ANNA («ENNOBLISSEUSE»)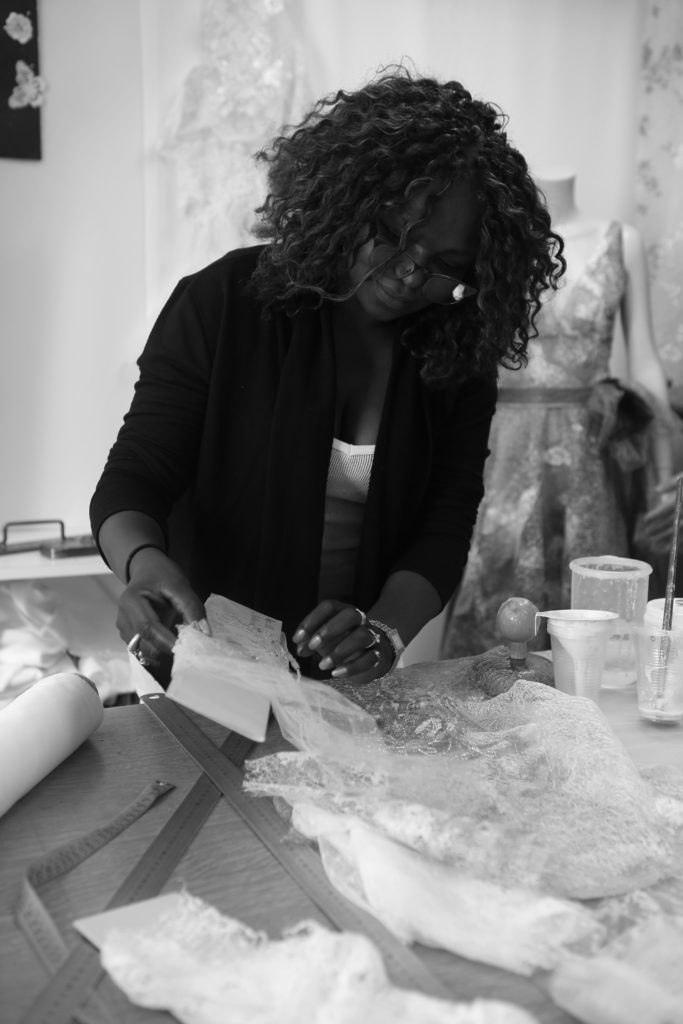 LUCRÈCE (GENERAL MANAGER)

Érase una vez… Los hilos de emoción de Cymbeline
Más de 40 años de historia, historia de amor y pasión de los artesanos orquestado por nuestras costureras, modelistas, patronistas, artesanas del encaje… Los talleres de Cymbeline son reconocidos por su saber hacer excepcional y una creatividad que no para de renovarse. Unas raíces francesas que no impiden un posicionamiento internacional y una presencia en los podiums culturales del mundo entero.
Cymbeline es indiscutiblemente uno de los fabricantes de vestidos de novia líderes en Europa y un referente en términos de imagen de la excelencia francesa y con una experiencia incomparable.
Gran casa de vestidos de novia franceses, Cymbeline presenta sus nuevas colecciones en los célebres salones internacionales de París, Barcelona, Londres, Milán, Essen y Dusseldorf y participa en el prestigioso desfile de moda Fashion Week en la Barcelona Bridal Week.
Cymbeline… Sinfonía de saber-hacer y elegancia a la francesa, el vibrar de los encajes, los murmullos del tafetán y de pasamanerías, la seda cautivante y embriagadora que captura nuestras emociones. El hilo de seda, los hilos de encajes, el hilo del bordado, y el hilo de la fiesta, han sido fundamentales para esta nueva colección llena de maestría.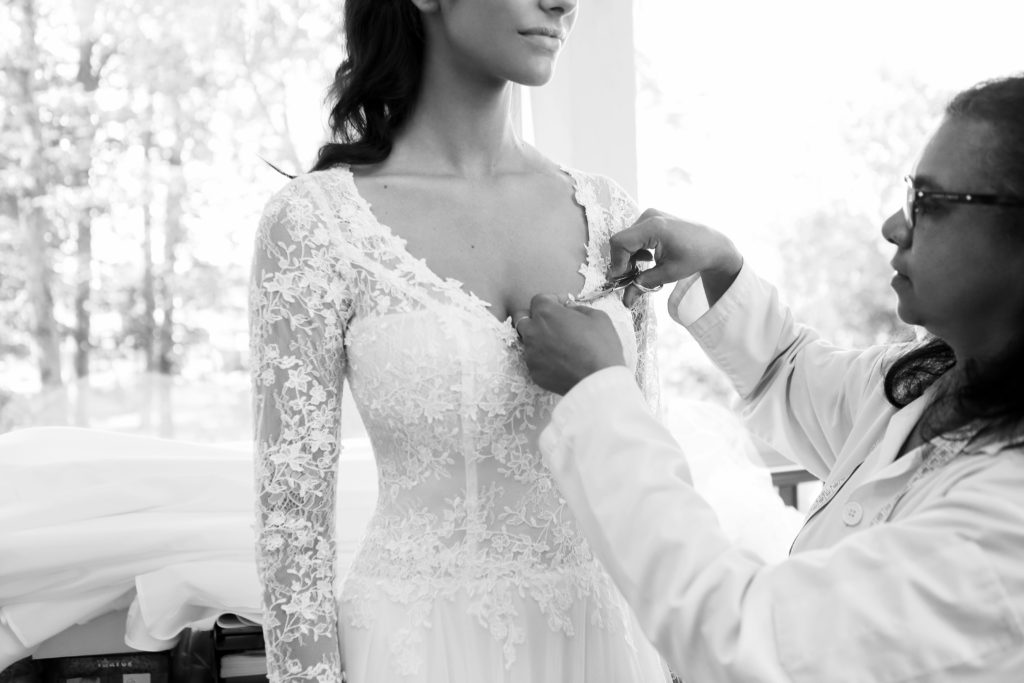 JOSIE (FINISHER), with her fairy fingers and a lot of patience, the lacemaker carefully reproduces a design drawn by a stylist or a designer. She uses for this purpose needles, hooks and spindles and threads of white linen, pearl cotton, ecru silk or gold or silver threads or color. In everyday life, dresses come to life thanks to dressmaker. They make and assemble all the pieces, to become the symbol of our house, the wedding dress.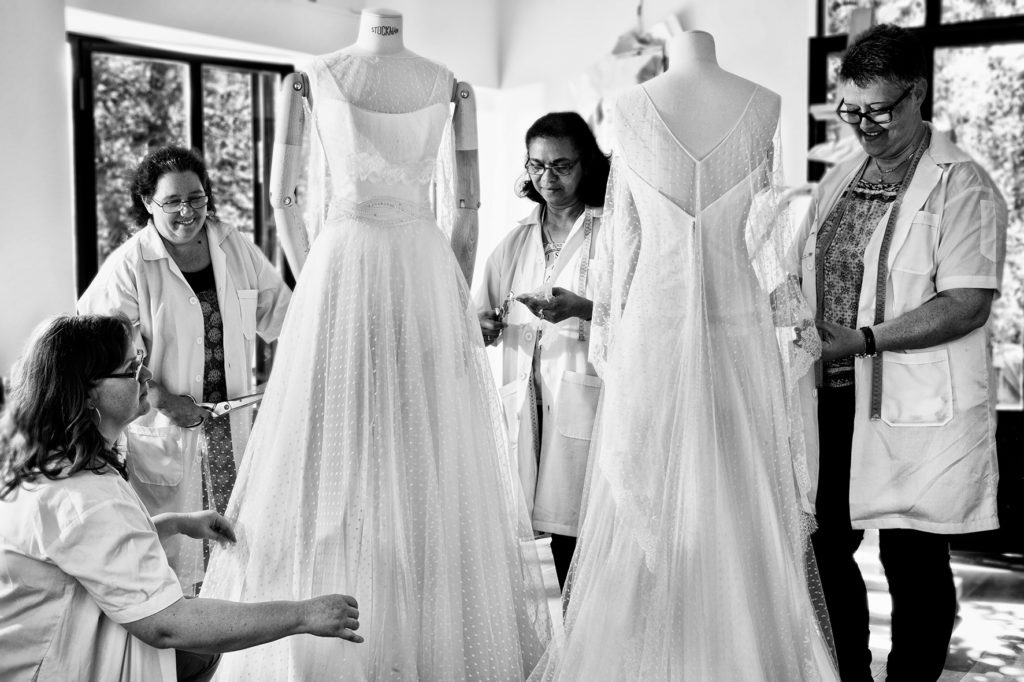 FROM LEFT TO RIGHT
OLIVIA (PATTERN MAKER), the pattern maker gets each element of the model maker, she gaters these elements by complementary pieces representing the linings, the inner reinforcements. It controls the assembly lines and the location of the positionning points of the pliers, the buttons… The patterns are made of paper and cardboard on the computer supports. This will make templates to facilitate manufacturing.
EUGÉNIE (CUTTER), the cutter manually performs the cutting of the pieces of fabric in length, taking care to minimize material loose and controlling apparent defects. JOSIE (FINISHER), LUCIA («MÉCANICIENNE MODÈLE»)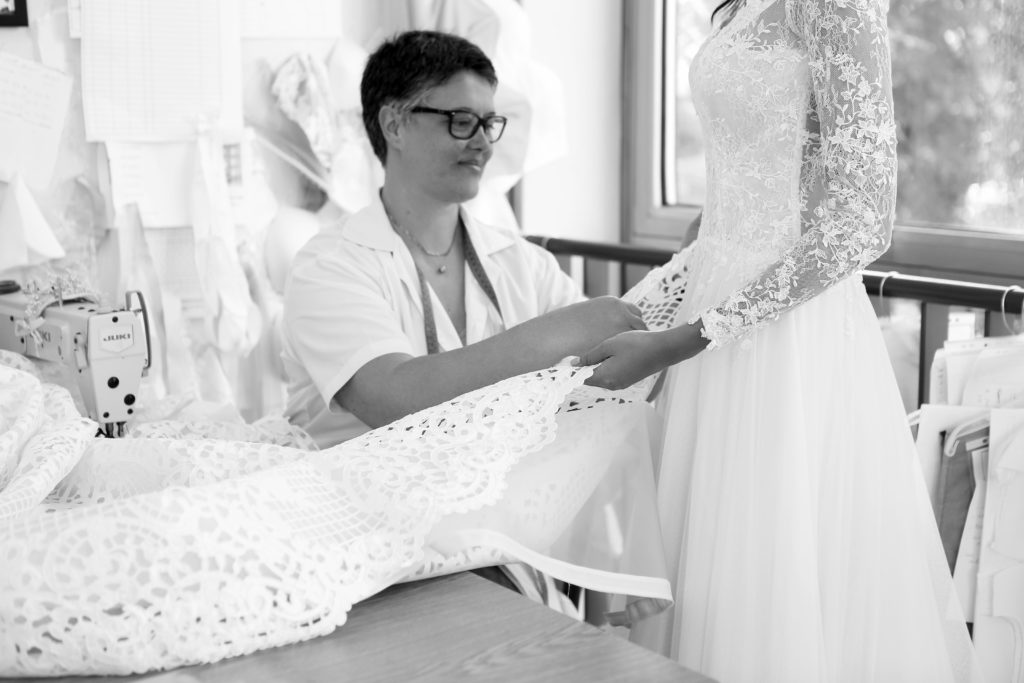 LUCIA («MÉCANICIENNE MODÈLE»), the model maker gives life to the stylist project. Essential link in the chain of creation of a collection, the model maker materializes the idea of a creator by performing and supervising the different steps of work necessary between the sketch and the prototype of a piece. Then the toilist drapes the canvas on a mannequin in order to obtain a pattern form a sketch, in connection with the artistic director, interpreting the sensivity of the house.